Economic projections for Indiana's metro areas in 2022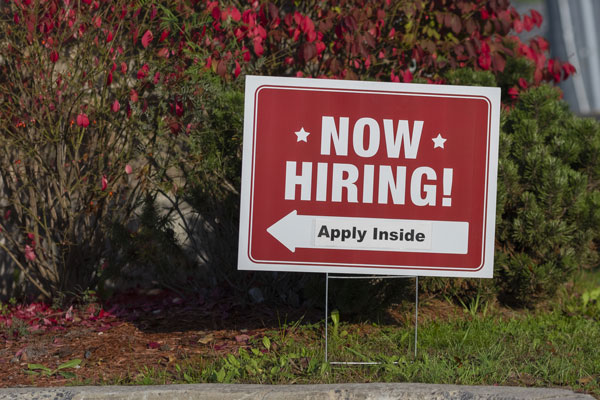 One big question for the coming year is whether higher wages will lure workers back into the labor force.
Economists from around the state recently shared their forecasts for Indiana's metropolitan statistical areas (MSAs) during the Business Outlook Panel tour, which held 10 regional events around the state this past November. Supply chain distruptions, labor shortages and continued uncertainty regarding the COVID-19 pandemic were the common themes.
This article compiles some highlights and expectations for 2022 from our team of local experts. For their full analyses, check out the complete Outlook issue of the Indiana Business Review.
---
Bloomington
Jennifer Pearl, Bloomington Economic Development Corporation
Carol O. Rogers, Indiana Business Research Center
The Bloomington Economic Development Corporation asked its members and partners about their own outlook for the coming year. The BEDC survey asked respondents to rate their overall business outlook for 2022 on a scale of zero (negative) to 10 (positive), with an average response of 6.93. Most respondents cited customer demand for products and services and the market for their business or industry as positive contributors to their outlooks.
In September, the full labor force stood at just under 79,000. Notably, the area's labor force peaked at more than 82,000 (based on annual averages) in 2009, just after the Great Recession, according to the labor force statistics from the U.S. Bureau of Labor Statistics. As competition for workers intensifies, wages in the region continue to climb, with the private industry average hourly wage increasing by 12% since October 2017.
The metro area has already seen a rebound in employment since the depths of 2020 and early 2021. Our forecast predicts average annual job growth of 2.3% between 2021 and 2024.
Read full Bloomington article »
---
Columbus
Dr. Steven H. Mohler, IUPUC
Dr. Jon Padfield, IUPUC
Of particular importance to the Columbus area, new vehicle production in the U.S. for the first nine months of each year declined from a high of 3.3 million vehicles in 2013 to 1.4 million units in 2020 and 1.2 million units in 2021. While full-year production is expected to rebound in both 2021 and 2022 to replenish the low inventory levels (in addition to fulfilling ongoing demand), supply chain issues will continue to be a headwind for the automotive industry.
Unemployment is expected to decrease slightly to a range of 2.4%-2.8% in 2022, with new participants entering a tight job market as supply chain issues begin to diminish in the second half of 2022. This will be complicated by continued challenges for the hospitality industry in the first half of 2022 as the pandemic continues into the early part of the year.
Read full Columbus article »
---
Elkhart-Goshen and South Bend-Mishawaka
Dr. Hong Zhuang, Indiana University South Bend
In 2021, both the South Bend-Mishawaka and Elkhart-Goshen MSAs saw economic recovery, but at different paces. South Bend-Mishawaka added new jobs, although its labor force remained soft in 2021—and still significantly below the pre-pandemic level in 2019. Elkhart-Goshen, on the other hand, recovered all its lost labor force and employment eight months into 2021, and its labor force and employment were slightly above the 2019 numbers.
In 2022, the local labor markets will continue to be tight, incentivizing employers to increase workers' compensations to meet higher consumer demand. South Bend-Mishawaka MSA's labor force is expected to expand, and more jobs will be added in 2022, both of which will bring its unemployment rate to around 4.0%. The Elkhart-Goshen MSA is reaching the full employment level. Hence, further improvement in this area's labor market could be smaller. The unemployment rate of Elkhart-Goshen in 2022 is anticipated to be around 3.0% with seasonal fluctuations.
Read full Elkhart-Goshen and South Bend-Mishawaka article »
---
Evansville
Dr. Mohammed Khayum, University of Southern Indiana
Despite ongoing labor market and supply chain disruptions since the advent of the COVID-19 pandemic, signs of gradual improvement in economic conditions for the Evansville metro area were evident in 2021. The unemployment rate decreased between January and September, and there has been a rebound in output and employment. The economic recovery evident in the Evansville metro area during 2021 is projected to continue in 2022.
Job gains occurred primarily in the following sectors: manufacturing; finance and insurance; professional, scientific and technical services; and accommodation and food services. The primary activities experiencing jobs losses were in mining, retail trade and government.
In 2021, the manufacturing sector witnessed an uptick in economic activity, with manufacturing's share of total employment reaching its highest level since 2008. The manufacturing sector accounts for 23.3% of the gross regional product in the Evansville regional economy and 15.5% of employment in the Evansville metro.
As employment and demand for locally produced goods continue to surpass pre-pandemic levels, both employment and output are expected to increase in 2022.
Read full Evansville article »
---
Fort Wayne
Rachel Blakeman, Purdue University Fort Wayne
Dr. Heather L.R. Tierney, Purdue University Fort Wayne
Employers in the Fort Wayne area are scrambling for workers with varying skill levels: both highly technical positions for manufacturing and health care, as well as relatively low-skill jobs in restaurants, retail or hotels.
The cause of the labor shortage appears to be multifactorial. Workers are retiring ahead of schedule thanks to comfortable retirement account balances, parents—mostly mothers—are sitting out of the workforce to manage school schedules (although that may be declining as schools are able to contain the virus and operate with in-person classes), and workers may switch careers and industries, leaving certain sectors scrambling. For example, the longtime restaurant line cook may have switched to a factory or warehouse job with better hours, higher pay, health insurance and retirement benefits.
Barring any unforeseen shocks to the overall economy, unemployment is expected to range between 4.8% to approximately 4% from September 2021 to December 2022. The unemployment forecast seems to indicate that the tightness that Fort Wayne employers are currently seeing in the labor market should last until the end of 2022. Given the constriction of the present labor market, it is expected that wages will need to increase if employers want to attract and retain workers.
Read full Fort Wayne article »
---
Gary
Dr. Surekha Rao, Indiana University Northwest
In 2021, the regional unemployment rate has been sticky and hovering around 7%, a lot higher than the state, which has been in the 4.0%-4.5% range. It will likely take some time to return to the pre-pandemic levels of less than 4%.
The trade, transportation and utilities sector and the education and health services sector combine to account for well over 100,000 jobs, which is more than 40% of all nonfarm jobs. This reinforces the notion that we are no longer a region with only steel mills and manufacturing jobs. While we have seen that jobs have rebounded, total jobs are well below the pre-pandemic level of more than 350,000, and they are unlikely to return to that level anytime soon.
The outlook for total annual employment for the next three years (2022-24) is promising. It is expected that total employment in the Gary metro will reach nearly 336,000 in 2022—an impressive annual growth rate of 2.6%.
Read full Gary article »
---
Indianapolis-Carmel-Anderson
Dr. Kyle Anderson, Indiana University
The Indianapolis-Carmel-Anderson Metropolitan Statistical Area (MSA) continues to lead the state in economic growth during the long pandemic recovery. This recovery should continue throughout 2022, even though there are significant risk factors.
A tight labor market means that businesses will struggle to find workers—and will need to pay higher wages when they do. Supply chain disruptions will also hinder growth in an area that is heavily reliant on manufacturing and transportation and logistics. These two factors are contributing to higher inflation readings and suggest that the economy may be overheating in a way that could threaten future economic growth. While these risks are significant, the most likely scenario is that they will slow growth rather than lead to a recession.
Even though employment is lower than pre-pandemic levels, the unemployment rate is still quite low. Projecting out over the near term, the Indianapolis MSA is poised to grow employment by an annual rate of 2.9% from 2021-2024, based on estimates from the Indiana University Center for Econometric Model Research (CEMR). This rate is higher than any other MSA in Indiana and is stronger than the state average of 2.0%.
The trade, transportation and utilities sector is the largest job sector in the area. Those jobs have only grown by 1.2% over the last year, but this likely reflects challenges in finding available workers rather than any issues on the demand side. Large distributors, such as Amazon, FedEx, and UPS, continue to look for workers in the area. Supply chain problems are creating challenges for these businesses, but they are still creating jobs in the area. Over the longer term, these businesses are likely to increase their automation levels so that they can reduce their reliance on the large numbers of scarce workers.
Read full Indianapolis-Carmel-Anderson article »
---
Kokomo
Dr. Alan G. Krabbenhoft, Indiana University Kokomo
Since the start of 2021, the unemployment rate has steadily declined in the U.S. and in the state of Indiana. However, Howard County has not had the same experience. In fact, the county's rate stands well above the rate at the beginning of the year. One of the reasons behind the stickiness of Howard County's unemployment rate can be tied to its heavy dependence on automobile manufacturing and the supply chain issues (especially in computer chip manufacturing) that remain.
For example, as of early November 2021, the previously vacant parking lot at the former Delphi facility now is the location of more than 3,000 unfinished trucks. The size of this inventory is growing as more and more vehicles await parts, typically computer chips, that need to be installed before they are shipped to dealerships. It is important to note that this supply chain issue is not unique to Delphi or the automobile industry; however, given the heavy emphasis on manufacturing in the region, it does have the largest local impact.
From an employment expectation, out of 15 MSAs that are tracked, the Kokomo MSA anticipates only 1.3% growth in the level of employment per year from 2021 through 2024. This falls within the bottom third of all the MSAs examined.
Read full Kokomo article »
---
Lafayette
Tanya Hall, Purdue University
The Lafayette MSA consistently had lower unemployment rates than the state and nation throughout 2020 and 2021. This was likely due to the local university returning to "normal" operations, the sizable quantity of essential workers and the number of employers who pivoted to allow workers to work remotely or safely in-person.
Looking forward to 2022, the MSA will likely face a continued tightening labor market, with employers seeking workers from a limited pool of candidates. It has been said that it is becoming an employee's market where more power rests in their hands—which may be true if the prospective employee has the requisite skills for the available job market. We are seeing increasing entry-level wages, which may entice individuals to enter the labor force. Thus, it is predicted that the labor force will likely grow at modest rates and encounter an unemployment rate in the upper 2% range, thus indicating full employment.
The CEMR forecasts anticipate an employment increase of 3.7%, or 4,587 jobs, in the Lafayette MSA for 2022 and continued employment growth in the region through 2024. Given the strong rebound in the service-providing sectors to recoup their 2020 losses, it is estimated that the growth will be realized more evenly in 2022 in both the goods-producing (manufacturing and construction) and service-providing sectors.
Read full Lafayette article »
---
Louisville
Dr. Uric Dufrene, Indiana University Southeast
For 2022, the Louisville metro will see payroll growth in the 2%-3% range. Key to this outlook is that employers are able to successfully fill job openings. Growth in manufacturing, robust consumer activity, and an expanding leisure and hospitality sector all contribute to this favorable outlook.
Southern Indiana continues to make steady progress in reducing the steep job losses that occurred during the pandemic recession. As of the first quarter of 2021, payrolls were down approximately 2,600 jobs from the previous year. This is considerable improvement from the second-quarter 2020 deficit that was close to a decline of 12,000 jobs.
An expanding labor force and mitigating supply chain disruptions will support overall payroll growth in the Louisville metro. Strong household balance sheets will support consumer spending, providing demand for transportation and warehousing. Services spending will accelerate compared to 2021, and this will support leisure and hospitality enterprises. Manufacturing can expect additional growth in 2022 as it continues to work through order backlogs. Automotive will see strong sales relative to 2021, and this will provide another boost to Louisville-area manufacturers.
Read full Louisville article »
---
Muncie
Dr. Dagney Faulk, Ball State University
Sean Weiss, Ball State University
Muncie is recovering. The unemployment rate decreased dramatically, but the labor force remains lower than the pre-pandemic level, and there has been a small decline in total nonfarm employment. Leisure and hospitality employment has stabilized, while retail continues to see job losses.
The Indiana University Center for Econometric Model Research's forecast shows employment growth of 2.2% in the Muncie MSA for 2022 as the county recovers from the pandemic.
Read full Muncie article »
---
Terre Haute
Dr. Robert Guell, Indiana State University
Dr. Kevin Christ, Rose-Hulman Institute of Technology
The loss of workers from the Terre Haute labor force actually accelerated during a period of robust national employment before the pandemic, experienced a relatively modest decline during the pandemic, and since then has continued its downward march. This is despite a robust local construction environment.
In terms of unemployment, the Terre Haute region actually has fared relatively well coming out of the pandemic. But, of course, a low unemployment rate when the labor force is shrinking is a "glass is half full" take on the situation.
The principal challenge facing the community is how to provide the social infrastructure needed to make Terre Haute an appealing place to live and raise a family in early 21st century America. Terre Haute has parts of that infrastructure: good parks, cultural activities such as the Swope Art Museum and the Terre Haute Symphony, entertainment offerings at local universities, and good health care facilities. We don't profess to know what the magic elixir is that could capitalize on these strengths and change current trends, but we suspect that it is not a large jail or casino.
Read full Terre Haute article »
---
Learn more
Visit www.ibrc.indiana.edu/ibr to read the in-depth metro analyses, as well as projections for the nation, state, financial markets and more.