Census results: Indiana adds nearly 302,000 new residents since 2010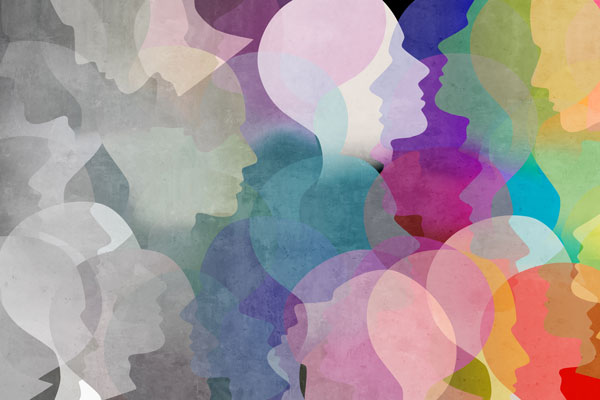 Indiana's 4.7% population increase marks the state's second-lowest growth rate between censuses.

The U.S. Census Bureau recently released its first results from the 2020 U.S. Census, and revealed that Indiana added 301,726 residents since the last census was taken in 2010—a 4.7% increase. Indiana's official population count was 6,785,528 as of April 1, 2020.
This once-a-decade head count shows that Indiana's numeric change over the past 10 years was roughly 25% lower than its population growth between 2000 and 2010, and was the third-lowest gain between censuses since 1940 (see Figure 1).
Figure 1: Indiana population change by decade

Source: U.S. Census Bureau
In terms of the pace of change, Indiana's 4.7% increase marks the state's second-lowest growth rate over a decade, with only the 1% uptick during the 1980s coming in at a lower level. This slowdown is not unique to Indiana, however, as the U.S. as a whole posted its lowest growth rate since the Great Depression (see Figure 2). The 7.4% increase over the last decade brings the U.S. population to 331.4 million.
Figure 2: Population growth rate by decade, U.S. and Indiana

Source: U.S. Census Bureau
Indiana's slower rate of growth since 2010 appears to be driven largely by a decline in natural increase (i.e., the difference between the numbers of births and deaths). According to the Census Bureau's population estimates program, Indiana had an average annual natural increase of nearly 32,200 residents per year during the 2000s, but that measure dropped to 20,400 over the past decade.
With an aging population, the state was bound to see somewhat lower levels of natural increase, but shifts in both mortality rates and especially fertility rates1 in recent years have triggered a steeper decline than would have seemed likely a decade ago. Figure 3 highlights Indiana's trends in births and fertility rate over the past 20 years.
Figure 3: Indiana births and fertility rate, 2000 to 2019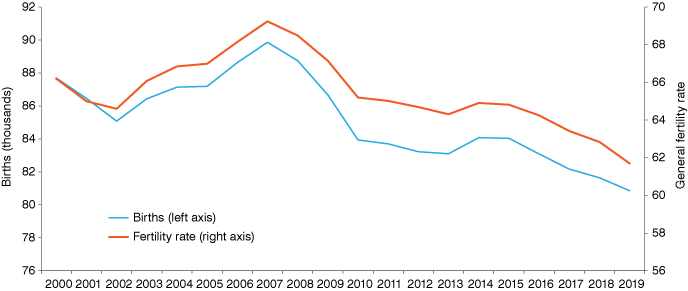 Note: The general fertility rate refers to the number of births per 1,000 women ages 15 to 44.
Source: National Center for Health Statistics and Indiana State Department of Health
Indiana in context
Looking around the country, most of the nation's fastest-growing states are found in the West and the South led by Utah (18.4%), Idaho (17.3%) and Texas (15.9%). Among neighboring states, Indiana's growth rate outpaced Illinois (-0.1%), Kentucky (3.8%), Michigan (2.0%) and Ohio (2.3%). The state's rate of change ranked 29th-fastest nationally. Three states lost population over the decade, with West Virginia showing the greatest decline at -3.2% (see Figure 4).
Figure 4: Population growth rate by state, 2010 to 2020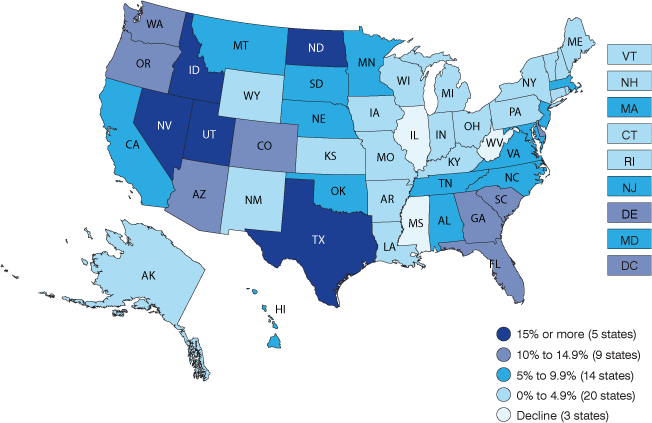 Source: U.S. Census Bureau
Indiana's population growth was strong enough to ensure that the state retained its nine seats in the U.S. House of Representatives. Indiana's allotment of U.S. representatives was 13 in 1920 but the state lost seats following the censuses of 1930, 1940, 1980 and 2000. Indiana has roughly 754,476 residents for each representative, up from 722,398 in 2010. The United States has an average of 761,169 people per representative in 2020.
In all, seven of the nation's 435 congressional seats will be reassigned based on the Census data. Neighboring Illinois, Michigan and Ohio are among the states to lose representation. Meanwhile, six states will pick up at least one seat, with Texas being the lone state to add two new representatives.
With 39.5 million residents, California is the most populous state in the country followed by Texas, Florida, New York and Pennsylvania. Indiana is the nation's 17th most populous state.
Watch for more Census releases later this year
The Census Bureau will issue several more data releases from the 2020 Census over the coming months. These releases will provide an in-depth look at the characteristics of the U.S. population in great geographic detail. These data and more will be released on STATS Indiana's Census page: www.stats.indiana.edu/topic/census.asp.